My sister is a real packrat and she has such a hard time actually using the patterned paper she buys. She says if she USES it, she won't HAVE it any more, LOL! She loves stamping her own background paper as you never run out that way, so to
celebrate our Grand Opening Sale of 15% off on card stock, ink and markers
, I asked her to tell us about the steps for this technique.
Supplies:
Paper
- 8½ x 11 Card Stock in Crumb Cake (kraft) (120593);
Stamps
- Artistic Etchings (clear 120573/woodmount 118517);
Ink
- Versamark (102283), Cherry Cobbler (119669), Chocolate Chip (100908), and Dark Green (she used retired Hunter green, but a combination of Garden Green (102272) with Always Artichoke (105219) in the centers would be even more lovely). Whisper White Craft (101731);
Embossing Powder
- Clear (109130); Tools - Sponge Daubers, Embossing Buddy (103083).
First, stamp alternating rows of the two stamps in Versamark. Stamp a row and then emboss it with clear detail powder before moving on to the next row. Otherwise it is too easy to smear the previous row as you continue stamping. Generous use of the Embossing Buddy will help avoid powder clinging where it shouldn't.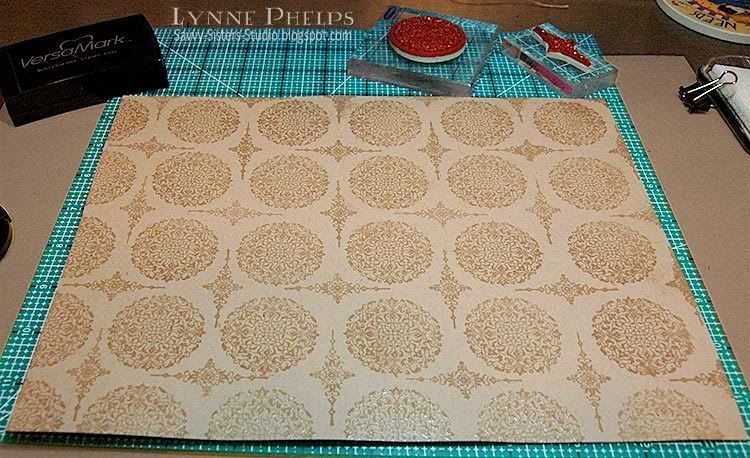 This is actually quite beautiful and you could stop right here if you wanted. But we were going for some Christmas paper and we really wanted to highlight the embossing by increasing the contrast. So we moved on to step two, which is sponging ink colors over the embossed areas. This is the fun part where the design really comes alive!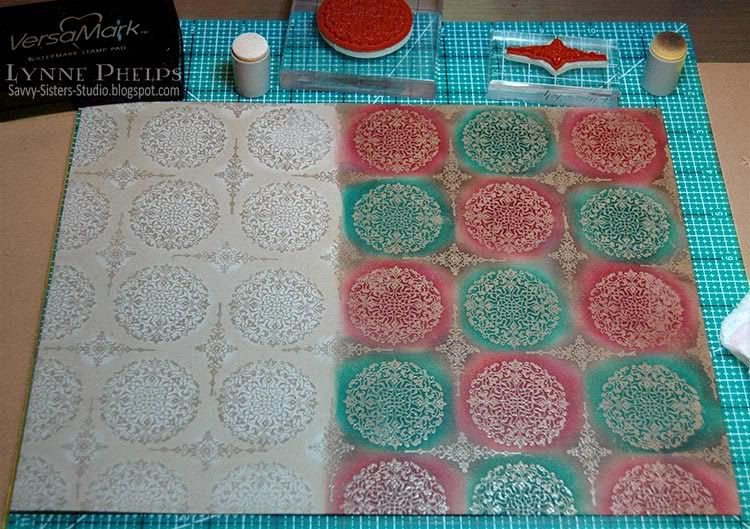 On the right end, alternating motifs were sponged with red or green. Each time you dab the sponge dauber on your ink pad, always start in the center of the motif and work out, so you have the most intense color in the center and the soft color around the edges. Then sponge the intersection motifs with Chocolate Chip.
On the left end, the centers of the motifs are sponged with white Craft ink and that's it! This gives the embossed motifs a really lacy look, perfect for a vintage or snow themed card!
When you are done, polish the embossing clean with a soft paper towel.
I wish you could see how lovely and rich this paper is in real life. Everything is a bit bleached out in the photo, the colors are actually deeper. It is like Presto Patterns that you make yourself. The shiny raised embossing adds such great detail and texture. This would be a great technique on any light colored paper with any color scheme! We'll show you some cards made with the papers soon.
Remember to check out my October Grand Opening Sale - 15% off on card stock, ink, and markers! Click here to see all the details!